Ask a classic movie fan, "What was your favorite year or the best year for movies?" and I'm guessing that more often than not you'd hear "1939" as the answer. At least that seems to be the case based on numerous discussions I've heard over the years. While there were definitely some great movies made that year, there is a year that stands out to me even more, 1941.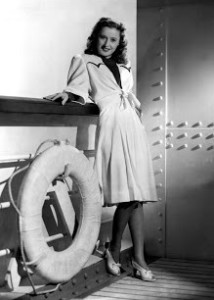 I'm not sure if I can definitively call it my favorite, but I've watched more movies from that year than any other in the classic era, and a few of my all time favorites were made that year including Sullivan's Travels and The Lady Eve, the latter starring the actress being honored, Barbara Stanwyck.
Add to those the acclaimed classics Citizen Kane, The Maltese Falcon, and another Barbara Stanwyck great, Meet John Doe, and I'd say it was one heck of a year for movies. And now I have a new favorite to add to that list, Ball of Fire, a movie that like Meet John Doe, starred Barbara Stanwyck and Gary Cooper.
Before I watched Ball of Fire, which was directed by Howard Hawks, I had previously watched two other comedies directed by him, with mixed results. I loved His Girl Friday (1940) and it is one of my all time favorites, but as I discussed in a post last year I can't quite say the same for Bringing Up Baby (1938). So I was interested to see how this movie would tip the scales, and I'm happy to say it tipped them in his favor.
"Slang is a language that rolls up its sleeves, spits on its hands, and goes to work."
~ Carl Sandburg
Ball of Fire, which was loosely based on the story of Snow White and the Seven Dwarfs, centers around seven elderly professors living together in a residence in New York City with their young colleague Bertram Potts, played by Gary Cooper. The group is several years into a research project with the goal of soon finishing an encyclopedia.
Responsible for the letter 'S' and more notably the term 'Slang', Professor Potts soon realizes that the extensive list of terms he's come up with is woefully outdated and in need of some freshening up. His quest to find more current slang sends him out into the city to do further research.
This leads to an interesting scene showing him eavesdropping on others' conversations; in Times Square, on the subway, at a baseball game, in a pool hall, and in a scene that will go down as one of my favorites ever in a movie, to a nightclub where he meets the singer Sugarpuss O'Shea, played by Barbara Stanwyck.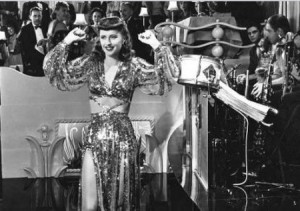 In that scene, we are treated to an exciting performance of the Gene Krupa classic, "Drum Boogie" with Sugarpuss singing and dancing in a spectacular, sparkly gold dress. (Martha Tilton dubbed Stanwyck's voice)
The atmosphere of the club, the cameo by legendary drummer Gene Krupa and his lively band, and the display of the fashions of the time all combined to form the type of scene I love to see in classic movies.
I always wish I could travel back in time and be a part of those nightclub scenes, and that's saying a lot given that I'm an introverted homebody who doesn't care much for going out to crowded places.
When Bertram Potts realizes that Sugarpuss, with her unique and colorful vocabulary, would be a perfect subject for his study of slang, he invites her to the professors' house to participate in a discussion about the latest slang terms. She turns down his invitation at first but soon takes him up on his offer when she is told that she is wanted for questioning in connection with a possible murder committed by her boyfriend, mob boss Joe Lilac, played by the ever handsome Dana Andrews. She realizes that his place would be a perfect hideout for her, certainly better than the rat infested warehouse originally proposed by Lilac's henchman, one of whom was played by the great Dan Duryea.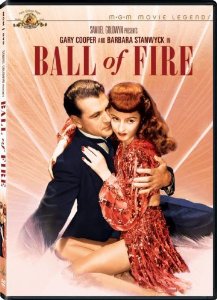 When Sugarpuss then pays a late night visit to the professors' residence, the seven older professors are at first shy and intimidated by her, but soon warm up to her and are captivated by her charm.
I found all but one of the professors, who among them included the great character actors; Oskar Homolka, Henry Travers, Leonid Kinskey, and S.Z. Sakall, incredibly charming and endearing. Only Professor Oddly, played by Richard Haydn, did not particularly appeal to me due to the rather irritating manner in which he talked.
A great scene in the movie is when Sugarpuss teaches the professors how to do the Conga. It's a very charming scene, because even though you know she is just using them for a place to stay, you can sense that she is developing a genuine affection for them.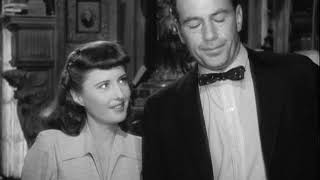 Not only do the professors quickly fall under her spell, but Bertram Potts (affectionately called "Pottsie" by Sugarpuss) soon begins to grow quite fond of her as well, and before long he even ends up proposing marriage. But before they can get around to marrying, Potts discovers that Sugarpuss was just using him and after confronting her sadly returns back to his residence.
Joe Lilac then tries to convince her to marry him so she can refuse to testify against him in court, but Sugarpuss wants nothing to do with him. The question then becomes, will the professors be able to escape the clutches of Lilac's henchmen, who end up holding them at gunpoint, to reunite Sugarpuss with her real love, Bertram Potts? Well, I'm sure you can probably figure out the answer, but I won't give away any more details for those of you that haven't watched the movie yet.
The Allure of Barbara Stanwyck (and Her Ankles)

Barbara Stanwyck was not the first choice for the role of Sugarpuss O'Shea. It was Ginger Rogers who was originally offered the role, but she turned it down. Lucille Ball was then set to appear in the role, but when Gary Cooper suggested Stanwyck, producer Samuel Goldwyn gave it to her instead.
I thought she was the perfect choice, because in my opinion not many actresses possess the same ability to show a tough side while also showing a softer, more comedic side as well as giving off an allure that makes men fall for her.
I thought she was as charming as ever in this role for which she was nominated for an Academy Award for Best Actress, probably surpassed only by her performances in The Lady Eve and Double Indemnity, my two favorite Barbara Stanwyck movies.
Speaking of Double Indemnity, anyone who has watched the movie knows the importance her character Phyllis Dietrichson's ankle bracelet plays in the movie, so I thought it was funny that a few years before that movie even came out, her ankle played a part in this movie as well. When Bertram realizes that Sugarpuss (and her ankles) are becoming a major distraction, he informs her that she will no longer be able to stay in the house.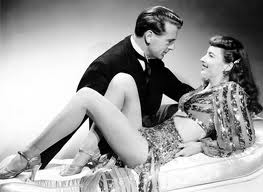 Comparing their project to a long, tedious voyage, he explained to her, "Now when the foundation launched our vessel, it very wisely followed an old rule of the sea, no women aboard. It chose a crew of single men with nothing to distract them from the course they were to sail. For four days we have been drifting Miss O'Shea. The needle of the compass no longer points to the magnetic pole. It points, if I may say so, to your ankles."
Her humorous response was classic Barbara Stanwyck, "Oh come on now admiral. A bunch of grown men. They've seen a pair of ankles before. If you think I'm bothering them, I'll sit on my legs." When Potts insists that she must leave, she tries hard to convince him that she has so much more she can teach him about slang, and it leads to one of the best quotes of the movie when he responds, "Well, I see what you mean. Very interesting. Make no mistake, I shall regret the absence of your keen mind; unfortunately, it is inseparable from an extremely disturbing body."
Gary Cooper as Professor Bertram Potts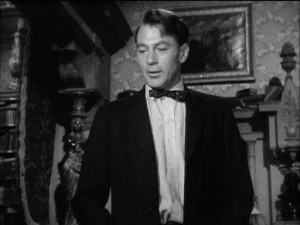 I have to admit I'm not a huge fan of Gary Cooper but I did enjoy him in this movie. I guess I rather liked his combination of intelligence, shyness, and honest affection for Sugarpuss that along with his handsome good looks made him more appealing to me than usual.
Perhaps it also speaks to his on screen chemistry with Barbara Stanwyck. Though it didn't necessarily leap off the screen to me, they did seem to have a comfort level with each other that made their relationship believable and fun to watch.
My Overall Thoughts on Ball of Fire
Obviously since I said that Ball of Fire is a new addition to my list of favorite movies from 1941, you can guess that I really enjoyed this movie. The great acting of Barbara Stanwyck and the appeal of Gary Cooper, the endearing charm of the professors, the cast loaded with so many great names from the world of classic film, and a funny script by Billy Wilder and Charles Brackett all made it a movie that stands out to me as one of the best of the year.