Classic Comedy Starring Cary Grant & Katharine Hepburn
Film in the United States in the 1930s was an interesting period that produced some of the best films ever made. Gone with the Wind and The Wizard of Oz both premiered before the decade ended in 1939, a year which many film historians deem to be the best year in all of film history.
In the early 1930s, we had the pre-code films which still sizzle today with content that the Hays Code would eventually force out of the film industry for a few decades. All in all, the 1930s were such an interesting time for films — and we've decided to discuss the best ones.
We all know the classics (like Gone with the Wind and The Wizard of Oz), so this list will focus on films that maybe don't get the critical acclaim in the 21st century that those films do. While we will still talk about the films that are truly great, regardless of if they may be "overrated", we thought we'd start with some films that many average film watchers aren't aware of.
Enter the 1938 film Bringing Up Baby, starring the incomparable Katharine Hepburn and Cary Grant. This film, coined as one of the first screwball romantic comedies, has an insane plot with memorable characters that get better with each new viewing.
What is Screwball Comedy?
Screwball is a term used for comedy that is offbeat and at times absurd. This sub-genre of comedy was developed during the 1930s. Essentially, screwball comedy is that which changes direction suddenly and unexpectedly. Bringing Up Baby is one of the finest examples of early Hollywood screwball comedy, as its hilarious, but ridiculous plot twists and turns in completely unanticipated ways.
Synopsis of Bringing Up Baby
The film follows an uptight paleontologist, Dr. David Huxley (Cary Grant), who is trying to secure a million-dollar donation for his museum. In addition, he is awaiting the arrival of the final bone needed to complete the brontosaurus that has been five years in the making and is due to be married to the extremely prim Miss Swallow.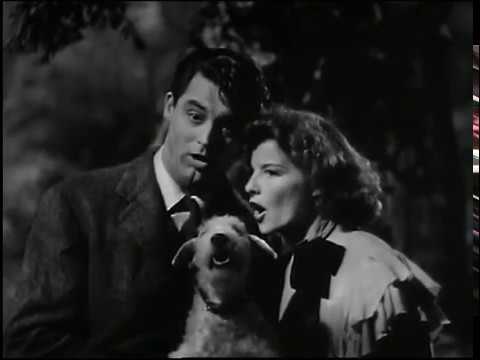 Through a series of bizarre events, David repeatedly encounters the impulsive, but well-meaning and optimistic Susan Vance (Katharine Hepburn). When Susan receives the delivery of a leopard named Baby, she tricks David into helping her take the animal to Connecticut.
However, as Susan begins to fall for David she is forced to create evermore elaborate schemes to prevent him from returning to New York and his impending nuptials.
A Classic Movie That Bombed in 1938
While Bringing Up Baby is beloved by so many today, it actually bombed in the box office when it was first released. Watching the movie now, it's insane to realize that no one wanted to see it. Who doesn't want to see a Grant and Hepburn pairing?!
Because of this poor fairing at the box office, director Howard Hawks was fired from his next picture and Katharine Hepburn was forced to buy out the rest of her contract to avoid being cast in a terrible film. Hepburn was also labeled box office poison, which is a laugh in itself considering she's now one of the most memorable Old Hollywood film stars.
While the film didn't do great across America, the cast and crew had a ton of fun filming it together. Cary Grant and Katharine Hepburn became great friends on the set and would often get to work early to rehearse together. When not working, they would double date with their respective partners at the time. The two have been in four films together, but (in our opinion) you can see their true friendship shine through the most in Bringing Up Baby.
Review of Bringing Up Baby
Bringing Up Baby is quite simply one of the best comedies ever made. Although the story is absurd, the audience's disbelief is never overstretched. The performances of the entire cast are executed beautifully, with particularly humorous moments from Charlie Ruggles who plays Major Horace Applegate, and Fritz Feld as Dr. Fritz Lehman.
Of course, one of the main attractions of the movie is the wonderful chemistry between the two leads. Cary Grant and Katharine Hepburn were paired in a number of very successful films, including the equally entertaining The Philadelphia Story.
It is incredibly refreshing, especially in a time when women were not widely accepted as 'clowns', to observe the complete lack of vanity in Katharine Hepburn's comedic performance.
There are numerous scenes that demonstrate Hepburn's willingness to appear in unflattering circumstances. For example, she becomes drenched in a stream, is slapped in the face repeatedly with branches, and trips headfirst over a log.
Cary Grant too displays mastery of physical humor in his portrayal of David Huxley. His facial expressions, which are sometimes over-exaggerated in films such as Arsenic and Old Lace, are timed and executed wonderfully in this movie.
As well as the obvious physical aspect to the humor of Bringing Up Baby, there is a lot of verbal comedy, too. There are numerous witty lines such as Susan's retort to David's assertion that his fiancée, Miss Swallow, would recognize poison ivy, "I bet poison ivy runs when it sees her."
Bringing Up Baby is a comedy with belly laughs galore. Of course, the look of the film betrays its age, but the humor is timeless and, therefore, it will be just as funny in another 70-year's time.
One of the Best Films From the 1930s
There are many reasons why we consider Bringing Up Baby to be one of the best films from the 1930s. For one, there were many split-screen and optical tricks utilized during the filming of this movie, as the actors had to complete their scenes with a leopard beside them. While they did work with this leopard, they would often use these film techniques instead — especially because Cary Grant wasn't a huge fan of working with the wild animal.
The plot and dialogue are also perfect. It's a slapstick, screwball comedy, and one of the best. Every single time David and Susan are together, their fast-paced bickering is so funny, even now. It's crazy to think that Katharine Hepburn actually had to be trained for comedic timing on the set of this movie, as she was initially not doing her character's natural comedy justice.
If the plot wasn't good, it wouldn't have held up over time. But it has. Bringing Up Baby is a lovely film to watch and definitely one of the best from the 1930s. If you haven't watched this little gem, please do. You'll laugh and enjoy it so much we're sure it will become a repeat film for you.