Dick Powell Reinvented Himself Playing Detective Philip Marlowe
Murder, My Sweet is a masterful early film noir, a brilliant mix of convoluted plot, hard-boiled dialogue, nightmarish atmosphere, and comically cynical narration.
This is the 1944 movie in which Dick Powell reinvented himself. With it, Powell forever buried his screen image of an overgrown crooner — one built in frothy Warners musicals of the 1930s.
Dick Powell did it by convincing a dubious world he could play a hardened, complex tough-guy detective.
Casting of Dick Powell a Radical Departure
The transformation was breathtaking. You could barely believe this was the same guy who sang corny love songs to Ruby Keeler between the geometric dance sequences of Busby Berkeley.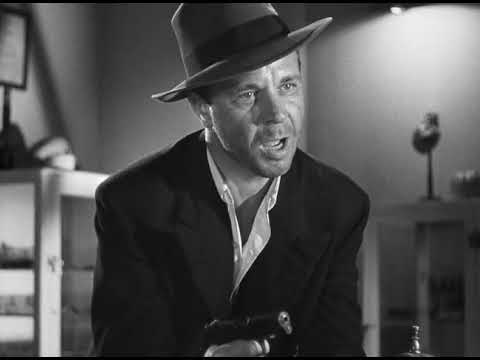 According to film writers Frank Miller and Felicia Feaster, Powell's casting as Philip Marlowe was opposed by Murder, My Sweet's director, Edward Dmytryk. Like many, the director couldn't imagine the chipper singer as a grim-faced gumshoe. Nor could studio management. "RKO's chief Charles Koerner," wrote Miller and Feaster, "wanted Powell under contract to star in his studio's musicals, but the only way Powell would agree to sign a contract as if he could play the lead in Murder, My Sweet as the first picture." (Why Murder, My Sweet is Essential, by Frank Miller and Felicia Feaster, tcm.com.)
Powell's instincts were right. In fact, he was probably the best-ever movie Marlowe. He was arguably better than Bogart, who was no slouch as Marlowe two years later in Warners' excellent The Big Sleep. Powell best captured the spirit of Raymond Chandler's protagonist because he completely submerged himself in the role; Bogart only slightly altered his well-established screen persona to play Chandler's world-weary detective.
(Powell was also head and shoulders above the aging, tired Robert Mitchum, who played Marlowe in the 1973 remake, Farewell, My Lovely. That film, incidentally, restored the name of the original Chandler novel.)
Character Actor Mike Mazurki Finds Fun, Fear in Role of Moose Malloy
Murder, My Sweet marked the first film collaboration of producer Adrian Scott and director Dmytryk, each of whom faced blacklisting a few years later in the congressional witch hunt for alleged Hollywood communists and sympathizers.
Murder's key supporting players included Claire Trevor as Helen Grayle — yet another bad girl role for her — and peaches-and-cream Anne Shirley as Ann Grayle, Helen's good girl stepdaughter trying to protect her wealthy, elderly father.
Then there's big galoot Mike Mazurki, with a face like a hissing retread just going flat. He gets the most out of playing musclebound ex-con Moose Malloy, whose search for his beloved Velma sets the story in motion and periodically pushes it along.
Philip Marlowe Plunged into Noir Nightmare
For some reason, the best noirs — The Maltese Falcon and The Big Sleep spring immediately to mind — twist and turn on plots nearly impossible to follow. Murder, My Sweet is no different:
The story is told in flashback, as Marlowe debriefs police interrogators on how he came to be in a cliffside beach house when gunshots rang out, two people died and the gun residue temporarily blinded him.
Marlowe claims he was hired by big, dumb Moose to find Velma Valento, Moose's onetime girlfriend and a former showgirl. This eventually leads Marlowe into a search for a stolen jade necklace. Along the way, he meets a rich playboy (who gets murdered), a fake psychic (played with silky villainy by Otto Kruger), the Grayle women, Helen's rich, elderly husband (movie veteran Miles Mander), assorted cops, and various thugs.
Each scene seems to pull Marlowe deeper into a world that barely makes sense. The pull into evil and helplessness is underscored in several scenes when he's either knocked cold or forcibly drugged. For these moments, Dmytryk called on special effects chief Vernon L. Walker, who delivered simple but startlingly atmospheric effects.
Animation Helps Build Atmosphere in Murder, My Sweet
In each instance, Marlowe tells us in voiceover what's happening — even as he loses consciousness. "I caught the blackjack right behind my ear," he says calmly while crumpling to the floor. "A black pool opened up at my feet. I dived in. It had no bottom." The inky, dark animated pool of spreading unconsciousness envelopes the prostrate detective.
The effect is repeated twice more, including once as a prelude to a hallucinogenic sequence in which spidery cobweb cues the audience that Marlowe — narrating his own nightmare — has been drugged by the bad guys.
Does Marlowe ever find Velma? Will Moose ever find happiness? What became of the jade necklace? No worries. Let the confusing plot wash over you, because what critic Danny Peary said of The Maltese Falcon is just as true of Murder: "…The story is so muddled that you can't remember from one viewing to the next exactly what happens — so it's always like new." (Cult Movies, by Danny Peary, Dell Publishing, 1981)
What really counts in Murder, My Sweet is the atmosphere of dread and paranoia, the product of screenwriter John Paxton's knowing, literate, witty adaptation, Dmytryk's deft handling of the performances, the brilliant black and white work of cinematographer Harry J. Wild and the packaging of personnel and approach by producer Adrian Scott and his associate, Sid Rogell.
Powell Narration Hits All the Right Notes
And if for no other reason, this film is noteworthy for some of the most sardonic lines in American cinema, most coming in Powell's hilariously dry voiceover observations.
To wit:
Marlowe describing an old drunk from whom he's trying to squeeze information:
"She was a charming middle-aged lady with a face like a bucket of mud. I gave her a drink. She was a gal who'd take a drink…if she had to knock you down to get to the bottle."
Murder, My Sweet helped establish many hallmarks of film noir: moody black and white photography reflecting the story's dark elements; a loner protagonist; an evil, manipulative woman as sexy as she is dangerous; an article (which Hitchcock famously dubbed "the MacGuffin" ) that sets in motion much of the action — in this case the jade necklace; and a corrupt sub-world that acts as a swirling vortex, pulling many of the people into its orbit.
The film itself pulls you into its orbit. And like Peary said of Falcon, it seems fresh every time you see it.