Barbara Stanwyck is my second favorite actress behind only Bette Davis, and as I've had the tendency to do with many of the classic movie actors and actresses that I love, I created an image in my mind of what I thought she was like in her personal life based on how I saw her in some of her movies. I even once compared her to comfort food in a review I did of her movie No Man of Her Own to convey the feeling of warmth and familiarity I got when watching her movies. Ah, the silly things I said as a new blogger!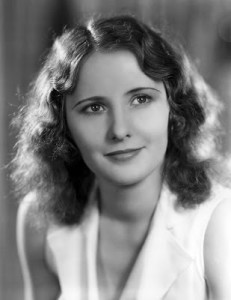 Even though I knew some of the facts about her often times difficult life, reading Victoria Wilson's book "A Life of Barbara Stanwyck: Steel-True 1907-1940" was still a bit of an eye opener for me, because I realized that in many ways Barbara was much different from the image I had created in my mind. That's not necessarily a bad thing though, and it probably even made the book a more interesting and intriguing read.
Wilson spent close to 15 years doing research for the book, which she wrote with the full cooperation of Stanwyck's family and friends. She utilized more than two-hundred interviews with actors, directors, cameramen, screenwriters, and costume designers as well as letters, journals, and private papers to create a very comprehensive look into the life and career of one of Hollywood's most beloved actresses. And at over 1,000 pages (860 pages of text), the book only covers the first part of her career! Which means there's much more great insight to come in a second volume.
A Look Inside "A Life of Barbara Stanwyck: Steele-True 1907-1940"
"A Life of Barbara Stanwyck: Steele-True 1907-1940″ chronicles Stanwyck's life from her early family history when she was still known as Ruby Stevens to the release of the movie Remember the Night, which was released in January of 1940. We learn about her early life as an orphan after her mother died when Barbara was four and her father left the family to work on the Panama Canal.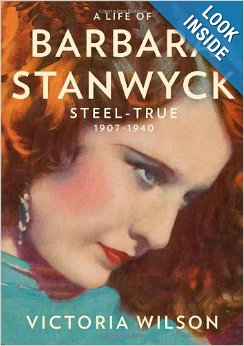 I found these stories to be very heartbreaking, and they gave a lot of insight into what shaped her as a person and an actress throughout her career. As she once admitted to Dorothy Shepherd, who along with actress Mae Clark was one of Barbara's almost constant companions during her years as a stage actress in New York, she was almost proud of being an orphan saying, "Well, I am so I might as well make the best of it." According to Shepherd, Ruby was strong, attractive, and full of life and was someone who went after what she wanted.
Also heartbreaking or maybe disturbing is the better word, was her relationship with her first husband Frank Fay and her adopted son, Dion Anthony Fay, whom the couple adopted in 1932. I didn't know much about Fay prior to reading this book, so Wilson's detailed account of their stormy marriage plagued by his alcoholism and abusive ways took on a darker, more serious tone than I was expecting.
Thankfully those years were in stark contrast to her marriage to actor Robert Taylor, which is covered later in the book. I don't really feel qualified to comment in depth on her relationship with her son other than to say I was disappointed to read about some of the ways she treated him as he was growing up. Sadly, they were estranged after his childhood and only saw each other a few times after he became an adult.
As the book went on it become apparent that it was much more that a biography of Barbara Stanwyck, but also an extremely detailed account of the history of the times, not only in Hollywood but around the world. That was very welcome at times given how much I love to learn about the history of that time period and of classic movies but I have to admit at times I got a little bit annoyed because I mostly wanted to learn about Barbara Stanwyck.
I didn't particularly enjoy reading the sections about politics, world events, etc. which I felt as I was reading, belonged in another book. In Wilson's defense though, as she stated in an article for Examiner.com, "The book was never a movie-star biography, but was a cultural and political history of her time; her work, her world, her Hollywood through an American century." Had I known that as I was reading it, I may have looked at it a bit differently.
That was my only significant criticism of the book though, because I did really enjoy it overall, especially because it allowed me to get a more accurate glimpse into the life and personality of one of my favorite actresses. By my own observation, Barbara was an introvert, which if true meant that I had something very much in common with her and it helped me relate to her in ways that maybe others couldn't.
As was stated in the book, "Barbara would freeze up when meeting someone new; parties with three or more people were uncomfortable for her." and "She quietly tried to evade most of the town's customs. She wasn't interested in a large social life and stayed away from parties, where she felt for the most part like a 'frozen rabbit'.
Barbara herself admitted that people saw her as anti-social, unapproachable and indifferent to her fellow actors, something which was not true. As someone who falls very far to the "I" side of the introvert/extrovert scale, I know just how easy it is to be misunderstood and thought to be stuck up or unfriendly so I felt for her that others did not understand her true nature.
One thing I had read about Barbara that was confirmed in the book was that she was nice to the crew on the set of her movies and treated them as equals, often joking with them and taking a genuine interest in their lives. They confided and trusted in her and saw her as unassuming, hard working and generous.
Another fact I discovered in the book that I found very interesting, maybe even a bit surprising was that Barbara loved the medium of radio and often participated in broadcasts on Lux radio. According to an article on the blog Film Comment Barbara was Lux' favorite guest, appearing 23 times from 1936 to 1955. The article does a great job of explaining why Barbara was such a good fit for radio.
As I mentioned before, the book contains an impressive 1,000+ pages, with approximately 180 of those pages being made up of appendices, notes, and an index. One appendix includes a film chronology, which I looked to often to find details about her movies such as the director, producer, cast, running time, etc. and another included a radio chronology which details her many appearances on Lux Radio.
Although I am a fan of much of Barbara Stanwyck's early career, I am really looking forward to Victoria Wilson's next volume, which will cover my favorite part of her career when she starred in classics such as The Lady Eve (1941), Ball of Fire (1941) and Double Indemnity (1944).